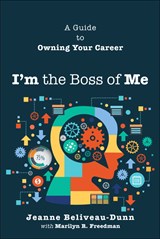 I'm the Boss of Me:
A Guide to Owning Your Career
by Jeanne Beliveau-Dunn
I was asked if I'd like to review this book a few months ago.  At first I was hesitant.  It's not typically what I write about on VoiceCerts.com, but in the end I felt that it could have value to everyone here.  Written by a Cisco Systems Executive, I was curious how someone from my industry would approach career development.
So, I accepted a complimentary copy of the book in exchange for my honest review.  (standard disclaimer)
You are probably thinking, "oh boy, another self-help book".  Well, don't run away.  In order to be successful, we need to develop a cycle of continuous learning.  Perhaps you enjoy studying for technical certifications and soaking up as much technospeak as you can - that's great!   How will you navigate your career, though?  Do you have the soft skills to be successful?  We've all had different bosses along the way and each guided us in some way.  Love them or hate them, they all impact us in ways that we cannot control.  The only constant is YOU - and YOU are the focus of this book.  Congratulations, I bet you didn't know you were famous, did you?