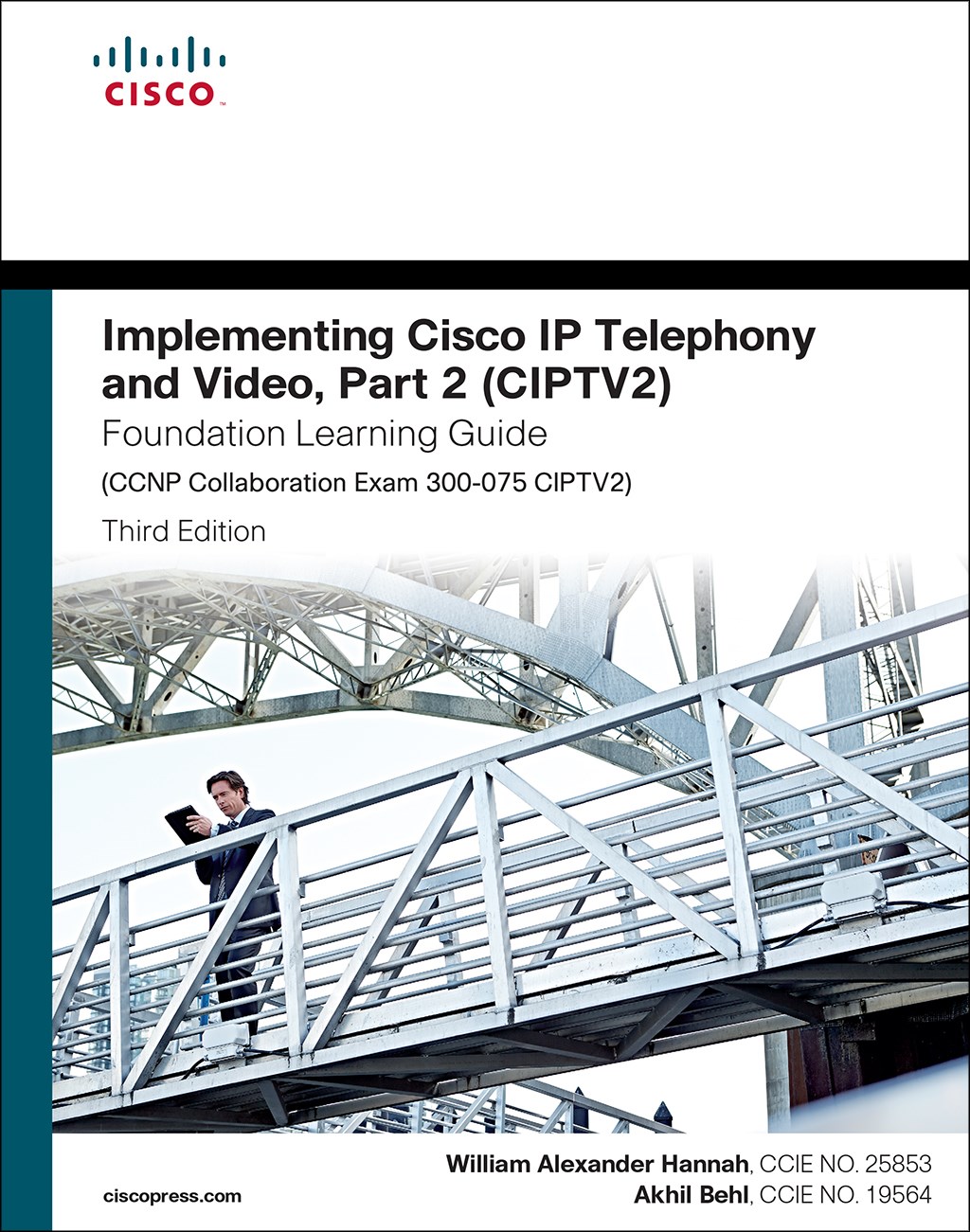 CIPTV2, 300-075 Guide
Alex Hannah, Akhil Behl
Cisco Press
Recently, I wrote a post entitled, "
Easily Upgrade CCNP Voice to CCNP Collaboration
".  When I drafted that title, I was thinking about the number of steps involved to migrate a CCNP Voice to a CCNP Collaboration certification.  In my mind, this was indeed "easy" - it's just one single exam (300-075)!  I immediately received feedback that this exam was not "easy" in any way - in fact, it was difficult to study for it due to the lack (at the time) of a Cisco Press authorized self-paced learning tool.  There is a tremendous amount of information available - but how to pull it all together to really prepare effectively?
4.5 out of 5
Recommended
Self-Study Resource
So, like many others, I was eager for the release of the the official self-study foundation learning guide "Implementing Cisco IP Telephony and Video, Part 2 (CIPTV2)" by Cisco Press on March 24, 2016.
I had already spent hours scouring the web to find resources that I thought would help me prepare for this exam (CIPTV2 300-075) based on the
exam blueprint that had been released by Cisco
.   However, even though I found tons of information on the topics listed, I still felt as though the blueprint was broad enough that it would be difficult to prepare fully for each topic listed.   Simply put, what will I be tested on?
Cisco Press states that "as an Authorized Self-Study Guide, this book
fully reflects
the content of Cisco's official CIPTV2 course."  As long as the 300-075 exam fully reflects the content of the official CIPTV2 course, I'll be in good shape.
Read on for my full review of "Implementing Cisco IP Telephony and Video, Part 2 (CIPTV2)" in specific preparation to take the exam that migrates my CCNP Voice to CCNP Collaboration, 300-075.