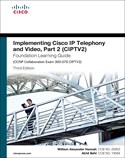 CIPTV2 by Alex Hannah
I've noticed that a lot of people with the CCNP Voice certification do not entirely understand how it relates to the
CCNP Collaboration
certification or how it can be used to easily obtain the CCNP Collaboration certification.
Cisco has thankfully provided a migration path that let's the effort used to get your CCNP Voice not go to waste. It's straightforward
and only 1 test
! So, don't wait and slap a new paint job on that slightly dull CCNP Voice and drive off the lot with a new CCNP Collaboration!
If you didn't complete the CCNP Voice certification previously, check out the
CCNP Collaboration Migration Tool
. You may be surprised to see that it's not as hard as you thought!
Why get the CCNP Collaboration Certification if I have CCNP Voice?
The CCNP Voice certification is categorized as a "Retired Certification" by Cisco. It does not encompass all of the current technologies that are included in the CCNP Collaboration certification and as a result does not hold the value that the CCNP Collaboration certification contains.
If you have the CCNP Voice certification (and it's not expired), then you are in luck. There is a fairly easy path to obtain the CCNP Collaboration, which is one of Cisco's currently available CCNP certifications. Keep reading for details...
Ok, so how do I upgrade my CCNP Voice to a CCNP Collaboration?
First,
make sure that your CCNP Voice certification is not expired
.
Next, pass
300-075 CIPTV2
(Implementing Cisco IP Telephony and Video, Part 2) and you will have earned your CCNP Collaboration certification! Now that was easy, right? BAM!
Read my full review of the
Cisco Press Official CIPTV2 Self-Study Foundation Guide (300-075)
.
Cisco Certification Tracker - CCNP Collaboration
What are the exam topics in 300-075 CIPTV2?
In short, this exam covers several topics related to video and features added to CUCM 9.x or later.
Per Cisco, "
The Implementing Cisco IP Telephony & Video, Part 2 (CIPTV2) v1.0 exam is a 75 minute 55-65 question assessment that tests candidates seeking CCNP Collaboration on their ability for implementing a Cisco Unified Collaboration solution in a multisite environment. It covers Uniform Resource Identifier (URI) dialing, globalized call routing, Intercluster Lookup Service and Global Dial Plan Replication, Cisco Service Advertisement Framework and Call Control Discovery, tail-end hop-off, Cisco Unified Survivable Remote Site Telephony, Enhanced Location Call Admission Control (CAC) and Automated Alternate Routing (AAR), and mobility features such as Device Mobility, Cisco Extension Mobility, and Cisco Unified Mobility. The exam also describes the role of Cisco Video Communication Server (VCS) Control and the Cisco Expressway Series and how they interact with Cisco Unified Communications Manager."
Exam Topics - 300-075 CIPTV2
Check out this detailed PDF for the
full list of 300-075 exam topics
.
Study resources for 300-075 CIPTV2?