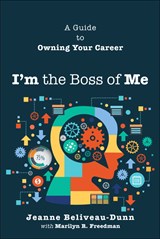 I'm the Boss of Me:
A Guide to Owning Your Career
by Jeanne Beliveau-Dunn
I was asked if I'd like to review this book a few months ago. At first I was hesitant. It's not typically what I write about on VoiceCerts.com, but in the end I felt that it could have value to everyone here. Written by a Cisco Systems Executive, I was curious how someone from my industry would approach career development.
So, I accepted a complimentary copy of the book in exchange for my honest review. (standard disclaimer)
You are probably thinking, "oh boy, another self-help book". Well, don't run away. In order to be successful, we need to develop a cycle of continuous learning. Perhaps you enjoy studying for technical certifications and soaking up as much technospeak as you can - that's great! How will you navigate your career, though? Do you have the soft skills to be successful? We've all had different bosses along the way and each guided us in some way. Love them or hate them, they all impact us in ways that we cannot control. The only constant is YOU - and YOU are the focus of this book. Congratulations, I bet you didn't know you were famous, did you?
Table of Contents
Chapter 1 - You Are Who You Are Because of Your Choices
Chapter 2 - You Are a Work in Progress - Challenge Yourself to Get Better
Chapter 3 - Do You Know What You Want from Your Career and Life?
Chapter 4 - Vision Strategy Execution
Chapter 5 - Becoming Your Vision: Aligning Your Behavior
Chapter 6 - Becoming Your Vision II: Articulating Your Brand and Building Your Bench
Chapter 7 - Attitude, Altruism and Altitude
Chapter 8 - Myths and Murders: Getting Past Roadblocks and Barriers
Chapter 9 - Planning and Making Choices
Chapter 10 - Self-Leadership 2.0: Success in the Face of Obstacles
Review
As I read this book, I really found myself doing a lot of self-discovery along the way. As a 46-year old engineer, I've been fortunate to have had a wide range of experiences in my career, both good and bad. At times, I've caught myself on auto-pilot just going through the motions (admit it, you've been there). What I personally found valuable about this publication is how it presents a framework within which the author leads you on a productive trip of positive self development.
Who are you? Where do you want to go? How are you going to get there? How do you identify career pitfalls? What is your personal brand? How do you choose supportive mentors in my "bench"? How do you develop the soft skills necessary to be successful?
The author shares her proven strategies for addressing all of these questions while sharing many of her personal experiences along the way. It's a light read that I believe everyone can find benefit within. Personally, as I face my own midlife (crisis), I feel a greater sense of clarity now about who I am and where I am going. Jeanne Beliveau-Dunn's career-building lessons are a useful addition to anyone's toolbox.
About the Author
Jeanne Beliveau-Dunn
is a Chairman and COO of the IoT Talent Consortium, Vice President and General Manager, Cisco Systems.